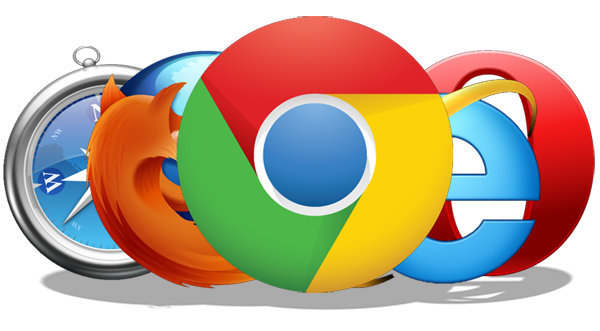 Internet Cache (Temporary Internet Files)
Copies of pages, images, and other media content stored on your PC. The browser uses these copies to load content faster the next time you visit those sites. But this means that many megabytes of data of all types get saved to you hard drive. Anyone who can use your computer can tell where you have been browsing on the web and see what images and videos you've looked at, what banners have been shown, etc.
Internet History
The list of websites you have visited and the dates on which you visited them. Browser's location bar shows some of the most recent sites you've visited and search history from from search engines (Google, Bing, Yahoo, etc.), it's located in your browser where you type in the web address bar. Therefore, anyone else can see where you've been and what you've done.
Cookies
Info that sites store on your PC to remember your preferences, such as sign-in info or your location. Cookies are small files that websites put on your PC to store information about you and your preferences. Cookies can make your browsing experience better by letting sites remember your preferences or letting you avoid signing in each time you visit certain sites. However, some cookies might put your privacy at risk by tracking sites that you visit.
Typed URLs
•The file completion mechanism where Internet Explorer tries to "guess" where you intended to go and fill in the location bar once you started typing. For instance, if you visited www.softedition.com, then the next time you went to type in that URL, Internet Explorer would suggest this URL once you typed the first few characters. For example, after typing "www.soft" Internet Explorer would present you with a drop down menu of all sites you visited that started with "www.soft". With Typed URL Manager, you can easily edit the URL list.
Index.dat Files
•The index.dat files (for Internet Explorer 9 and previous versions) are always LOCKED during a Windows session and can not be deleted manually. Even if you clean up Internet cache, cookies and browsing history from Internet Explorer regularly, the index.dat files will continue to store information about what web sites you have visited and what cookies have been saved, this also grows to enormous size and slows your computer down.
Browser Cleaner can delete these files during Windows startup before they become locked. After Windows startup, new files will be created automatically with the same name but they contain no data.
Download History
•The list of files you have downloaded from the web, such as pictures, videos, documents and other files. This will only delete the list, not the actual files that you've downloaded.
Last Download Location
•Files you have downloaded from the web are automatically saved in a default download location. This folder is usually located on the drive where Windows is installed (for example, C:\users\your name\downloads). This will only delete the location reference, not the actual folder. You can change the default location to another folder as your convenience.
AutoComplete Form History
•AutoComplete stores previous entries you've typed or visited before and suggests possible matches for you. When you visit a website that require entering personal info—like user name, email, shipping and billing addresses, Internet Explorer will ask if you want your these info remembered. AutoComplete can you save time by filling out forms automatically. The next time you visit a site with forms and start entering your info, Internet Explorer will finish filling out the form based on what you've previously entered. When you're using a public or shared PC, make sure AutoComplete is turned off. You can also remove AutoComplete history from that PC if you accidentally enter info that you don't want to share—like the billing address for a credit card.
Saved Passwords
•Saved passwords that are automatically filled in when you sign in to a website you have previously visited.
•AutoComplete saves you time by remembering passwords and other info you enter into forms online. Since this info is securely stored on whatever PC you're using at the time, you should be careful about using AutoComplete on public or shared computers.
Important Note:
1. You shouldn't save your personal sign–in info on public PCs, or on PCs that are shared with other people.
2. Your account info is stored on your PC—it isn't shared between user accounts. If you choose to save passwords in Internet Explorer, be sure to use a password on your PC and keep it locked when not in use.
Password saving is on by default in Internet Explorer, you can click here to turn off password saving.
---